Dental Implants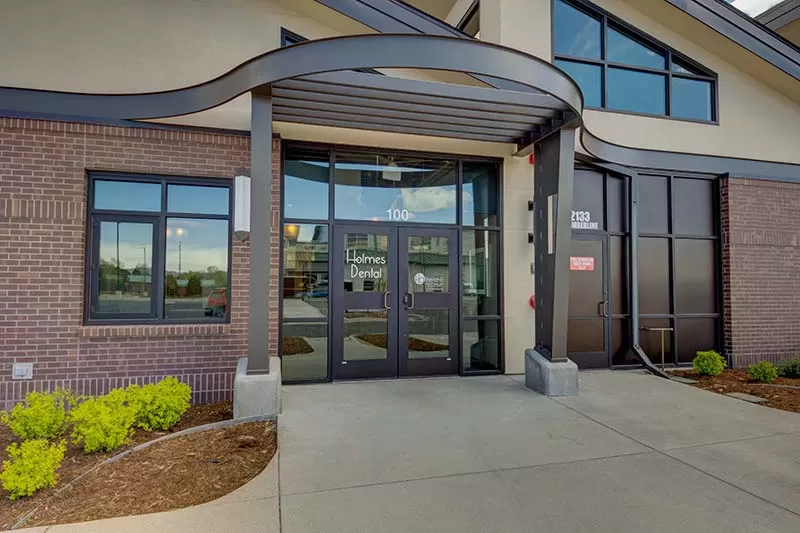 Holmes Dental is happy to offer dental implants in Fort Collins, CO. We understand the importance of a healthy smile and the impact missing teeth can have on your confidence and oral health. That's why we offer dental implants as a state-of-the-art solution for restoring missing teeth and improving your overall well-being.
With our expertise and experience in performing dental implant procedures, we are here to guide you through the process and help you achieve a beautiful and functional smile.
Understanding Dental Implants
Dental implants are titanium posts that are surgically placed in the jawbone to serve as artificial tooth roots. They provide a strong foundation for replacement teeth and offer numerous benefits. By choosing dental implants, you can enjoy improved appearance, restored oral function, and the preservation of jawbone health.
Unlike traditional tooth replacement options, dental implants closely mimic the look, feel, and function of natural teeth, giving you a seamless and long-lasting solution.
The Dental Implant Process
Getting dental implants involves a carefully planned and executed process. It starts with an initial consultation, where our dental team evaluates your oral health, discusses your treatment options, and creates a personalized treatment plan. The next step is the implant placement, where the titanium post is precisely positioned in the jawbone. Over time, through a process called osseointegration, the implant fuses with the jawbone, creating a stable foundation for the restoration. Finally, a custom-made dental crown, bridge, or denture is securely attached to the implant, completing the restoration.
At Holmes Dental, we utilize advanced technology and techniques to ensure your comfort and the success of your implant procedure. Our experienced team is dedicated to providing exceptional care and achieving the best possible outcomes for our patients.
Benefits of Dental Implants
Choosing dental implants offers a range of advantages over traditional tooth replacement options. With dental implants, you can enjoy a natural appearance and feel, as they closely resemble your natural teeth. They also enhance your oral function, allowing you to bite, chew, and speak with confidence and ease. Dental implants are a long-term solution that offers durability and permanence, eliminating the need for frequent replacements. Additionally, they help preserve your facial structure by preventing bone loss in the jaw.
Don't just take our word for it – hear from our satisfied patients. We have numerous testimonials and success stories that showcase the positive impact dental implants have had on their lives. Our goal is to help you regain your smile and improve your overall quality of life.
Are Dental Implants Right for You?
Determining if dental implants are the right choice for you requires a consultation with our dental team. Factors such as overall oral health and jawbone density play a crucial role in candidacy for dental implants. However, age is not a limiting factor, as dental implants can benefit a wide range of patients. We encourage you to schedule a consultation at Holmes Dental to assess your specific needs and explore the dental implant options available to you.
Our Dental Implant Services
At Holmes Dental, we offer a comprehensive range of dental implant services to meet your unique needs. Whether you need a single tooth replacement or multiple teeth replaced, we can provide the ideal solution for you. Our implant-supported bridges and implant-supported dentures offer improved stability, comfort, and confidence. We use high-quality materials and state-of-the-art techniques to deliver personalized and long-lasting results.
Schedule a Dental Implant Consultation
At Holmes Dental, we are dedicated to helping you achieve a confident and healthy smile through dental implant procedures. With our expertise and personalized care, we aim to restore your missing teeth, improve your oral function, and enhance your overall well-being.
Ready to take the first step towards restoring your smile and oral health? Schedule a dental implant consultation at Holmes Dental today. Call (970) 221-2499 to schedule your appointment now!