Implant Restoration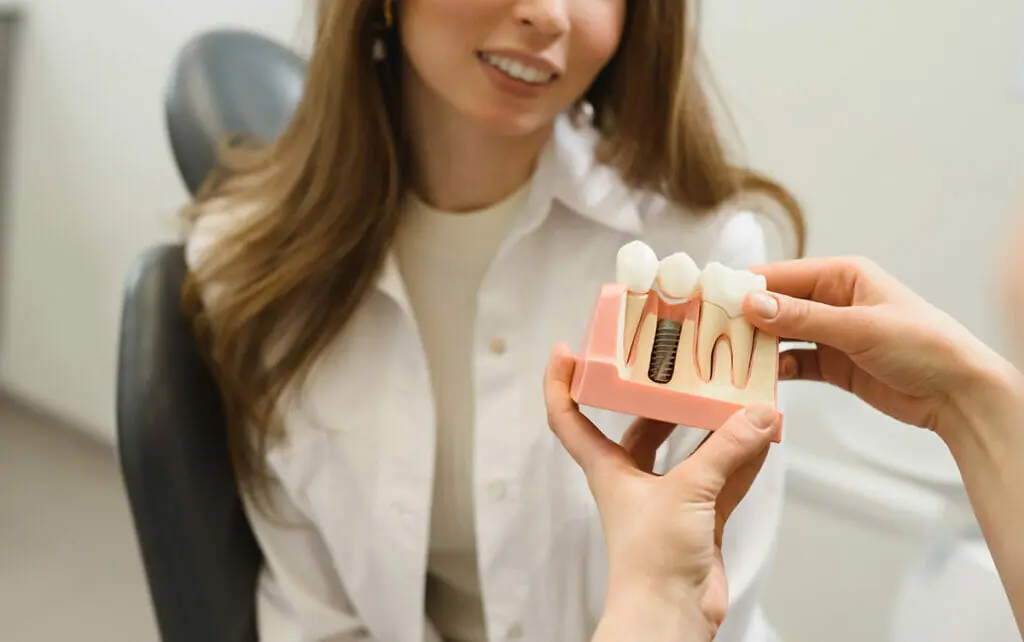 Welcome to Holmes Dental your trusted provider of implant restoration in Fort Collins. This is a state-of-the-art solution for replacing missing teeth and restoring your smile. Our experienced dental team is dedicated to helping you regain confidence in your smile through the use of dental implants. Let us guide you through implant restorations and explain how this innovative treatment can benefit your oral health.
Understanding Implant Restoration
Implant restoration is a dental procedure that involves the placement of dental implants to replace missing teeth or stabilize dentures. Dental implants are essential in preserving jawbone structure, restoring oral function, and enhancing the aesthetic appearance of your smile. Unlike traditional tooth replacement options such as bridges or dentures, implant restoration offers several advantages. Implants provide a permanent solution that closely mimics the look, feel, and function of natural teeth.
The Dental Implant Process
The dental implant process begins with an initial consultation, during which our dental team will evaluate your oral health and review your medical history to determine if you are a suitable candidate for dental implants. If eligible, a dental implant, made of a biocompatible material, will be surgically placed into the jawbone to serve as an artificial tooth root.
Over time, the implant will fuse with the jawbone through a process called osseointegration, creating a stable foundation for the restoration. Once the implant has integrated, a custom-made dental crown, bridge, or denture will be securely attached, completing the restoration.
Benefits of Implant Restoration
Choosing implant restoration offers numerous benefits. Firstly, dental implants provide a permanent tooth replacement solution that closely resembles natural teeth. They also stimulate the jawbone, preventing bone loss and preserving facial structure. With implant restoration, you can comfortably bite, chew, and speak, just like you would with natural teeth. Additionally, dental implants provide a natural appearance, enhancing your smile and boosting your confidence.
Implant Restoration Options
At Holmes Dental, we offer different implant restoration options tailored to your specific needs. For a single missing tooth, dental implants can provide a seamless and long-lasting solution. If you have multiple missing teeth, implant-supported bridges can restore both the functionality and appearance of your smile. Implant-supported dentures offer improved stability, comfort, and confidence, securely anchoring your dentures through the use of implants.
Is Implant Restoration Right for You?
Determining if implant restoration is the right choice for you involves considering certain criteria. Factors such as sufficient jawbone density and overall oral health make someone a suitable candidate for dental implants. To assess your specific needs and determine the best treatment option, we encourage you to schedule a consultation at Holmes Dental.
Schedule a Consultation for Implant Restoration
At Holmes Dental, we understand the impact that missing teeth can have on your confidence and oral health. With our implant restoration services, we aim to restore your smile and improve your overall quality of life. If you are considering dental implants, schedule a consultation with us today to discuss your options. Trust our experienced dental team to provide personalized care and help you achieve a beautiful, functional smile through implant restoration.
Call (970) 221-2499 to schedule your appointment now!